Cardiac  & Non Cardiac Ambulance Facility

Our Hospital is fully equipped from the beginning but in this crises we start cardiac ambulance with full life saving machine s by which we can take patient from one place to another without any problem. Our basic concept is to survive the patient that will be the most satisfaction for us.

             

  
Oxygen Plant

"Communication to a RELATION is like OXYGEN to life. Without it dies…………"

Oxygen is the most important element for living beings because it sustains life on the planet EARTH.

90% of our Bio-chemical & metabolic activities need OXYGEN. In case there is a fall in Oxygen level one can use oxygen cylinders for raising the level. During COVID-19 many patient die due to lack of Oxygen but we are very lucky to have an Oxygen Plant in our hospital premises. We are always ready to serve for people.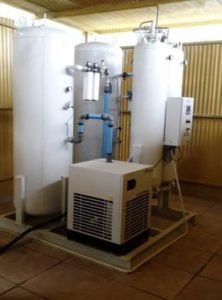 T.M.T. Machine

We have a T.M.T. Machine from ALLENGERS. T.M.T. is a test for stress. The T.M.T. testing compares blood circulation to your heart, when you are testing and under the influence optimum physical pressure. TMT Machine is very unique, essential machine for the cardiac patient.

Digital X-ray

Through Digital X-ray is an very advance form of X-ray. We can say very proudly it is also in our hospital, which produces Digital Radiographic Image instantly on a computer. In this sensitive plates capture data during examination.
      C-Arm 
Machine
We have a Latest Equipment in the Hospital Like C-Arm machine it is a piece of Medical Imaging equipment with the latest Technology. That is due to the C Shape Arm it is called C-Arm Machine. This Machine is used for surgery like orthopedic procedures, Urology procedures, vascular procedure & Cardiac procedure.
      Operation Theater
We have a large and well equipped operation theater in which we use operating protocol with well trained staff. We have a big wash area. An OT is that specialised facility of the hospital, where life saving life improving procedure are carried out on human body.
     
       Labour Room With NICU
In our Hospital we have a delivery facilities also with the specialised Doctors & trained staff . In the Labour room we have a necessary arrangement for mother and child care like NICU. The New neonatal intensive care unit is a place where the birth of a baby in the intense watch by specialized team. New born baby's need intensive care put in a special area of the Hospital called NICU.

     Casualty
   
     I.C.U.