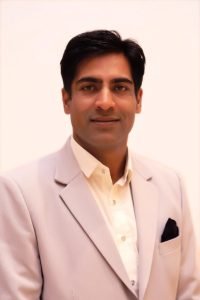 Dr. MUKESH GIRI GOSWAMI
BHMS ; MBA (HA)
D. YOGA
DIRECTOR
GROUP OF INSTITUTIONS
Chairman's message
Professor Amartya Sen has said that health and education are two most important pillars for any countries economic growth. As a matter of fact, investment in health and education, in long run, is the best investment for any nation.
We in this institution try to create medical professionals who could help preserve, promote and develop people's health through a medical system which is very old and respected, that is, Ayurved. Ayurveda is the most ancient system of medicine in the world developed in this country. As this system is developed in this country, the ayurvedic medicines and systems of treatment go very well with our environment.
It is noted with concern that people try Ayurvedic system of medicine when they are disappointed by other systems of medicine systems.
Ayurvedic is people's system of medicine which is not only very old but also efficient and cost effective. Medicines are almost free from side effects.
Here in this Medical College we create medical professionals who are deep both in theory and practice.Our teachers are very experienced and knowledgeable.
I assure budding Ayurvedacharyas that they are in very safe hands. They will be trained very thoroughly both in theory and practice of medicine. I wish promising medical professionals all the very best this Ayurvedic Medical College,
Yours,
Chairman.
*********************************************************************************************************
SMT. PRIYANKA GOSWAMI
MBA (HA)
Ex. DISTRICT PRESIDENT OF RURAL DEVELOPMENT DEPARTMENT
(STATE MINISTER)